Interested in supporting one of these funds?
DONATE NOW
Magic Circle Players Endowment
Magic Circle Players, Ltd. is a non-profit organization dedicated to the presentation of quality live theatre in the Montrose Community. Through the efforts of volunteers, MCP strives to entertain, educate, and involve the residents of Western Colorado, young and old, by encouraging an appreciation of the dramatic arts. They have been serving our community for over fifty-three years. For more information visit
http://magiccircleplayers.com
.
Montrose Center for the Arts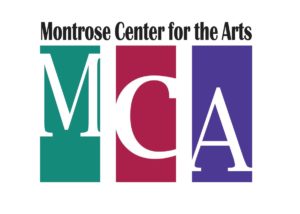 The mission of the newly-formed Montrose Center for the Arts is for Montrose to be widely recognized as the premier Center for the Arts on the Western Slope. Our goals are to grow a community of people committed to and engaged in the arts including visiting artist programs, demos and instruction in schools, libraries, senior and veteran's centers, gallery space and studio classes furthering cultural development and creating another jewel in the crown for Montrose. Contact the MCF for more information.
Montrose Regional Library Permanant Book Fund
In order to provide Montrose County residents with the full measure of resources befitting great libraries, the Libraries of Montrose County Foundation developed Permanent Book Funds. With gift of $2,500 or more (which may be pledged over five years), individuals/families can create a Permanent Book Fund. The Fund is invested in perpetuity, with its income used to purchase books annually. You can specify a genre of book (mysteries, cookbooks, etc.) or let the Library choose what is needed most. Donors received a bookplate in each book purchased by each Fund, and an annual list. For more information please visit www.montroselibraryfoundation.org.
Save the Sculptures (Montrose)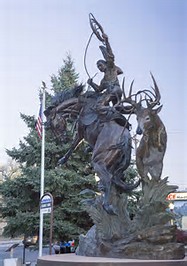 Montrose is in danger of losing two iconic sculptures that anchor the downtown. "Where Eagles Dare" and "Bad Decision" are two bronzed sculptures designed by nationally-know artist Vic Payne of Wyoming. For the past five years the sculptures have been on-loan to the Downtown Development Authority and the Public Art eXperience (PAX). The owner, Mr. Bill Widger, has agreed to extend the lease for another year. The community has until April 2018 to raise funds to purchase the two sculptures. For more information about this project call 249-3900. Make your online donation today!
Public Art eXperience (PAX)
The goal of the PAX organization is to create new chances for people to come together as a community and have new opportunities to enjoy direct engagement with quality works of art. Through a revolving sculpture loan program, everyone has the opportunity to experience quality works of art in our own community. More information here.
Montrose Arts Council
The Montrose Arts Council is based in Montrose, Colorado. Organized in 1972, they are a 501(c)3 non-profit organization with an annual membership and a volunteer board. They provide a variety of entertaining events each year, but do not limit themselves to performing arts. They collaborate with other non-profit organizations with similar interests, support visual arts, and award summer camp scholarships to Montrose County students who are pursuing the arts.